Mixed Aerial Arts class
In the mixed-aerial class we will work with the following aerial apparatus: Silks, Trapeze and Lyra. The class structure allows each participant to progress at their own pace. Whether for an introduction to the aerial arts or for pushing the technique in a particular discipline, our highly experienced and skilled coaches are here to share our passion and expertise!
For aerial children's classes click here
Clicking on the register buttons above will show you the price and number of spots left.
More about the different price options on our FAQ page.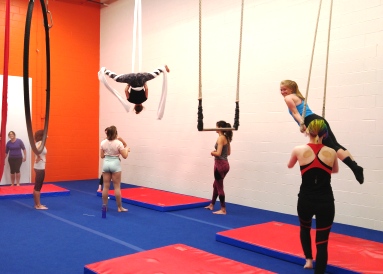 Dress code: Athletic wear. No jewelry, these could snag the aerial fabric. Absolutely no: zippers, buttons, eyelets, plastic or metal of any kind on clothing these could tear the fabrics as well as be uncomfortable for the trapeze. Leggings or track pants are great. A top that is either fitted or can tuck into the pants is ideal for going upside down. Long hair tied back. We will work mainly in socks and barefoot.
Bring a water bottle and yoga mat.
Want a reminder when registration opens? Join our mailing list.