Summer 2020 camp (COVID update on June 20th, 2020)
Day camps and weekly classes ARE HAPPENING in summer 2020 in a new outdoor seasonal location behind the church at 55 Appleford Street in Ottawa, Ontario!!
8 weeks of camp beginning July 6th

Once you are registered here is the important information info to take note of before camp starts
Check-list of items to bring
Daily Pre-screening form to be submitted each day before camp
We have rented a nice green space and set up an outdoor aerial rig with shade and rain cover to offer our same amazing day camps that have been happening since 2005 with, of course, a few changes to comply with the public health guidelines.
See our FAQ below for full details on the change we are implementing this summer to comply with public health guidelines.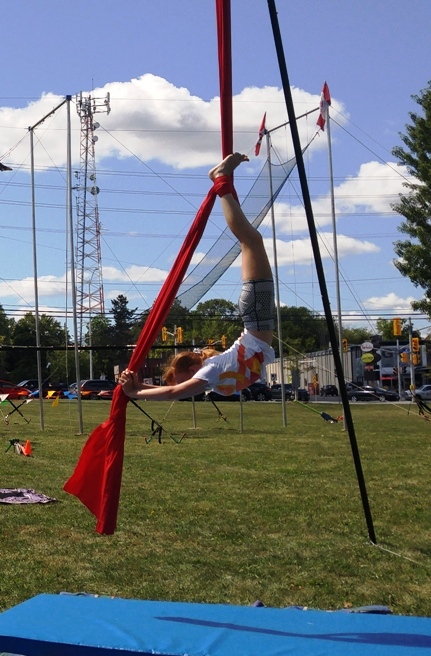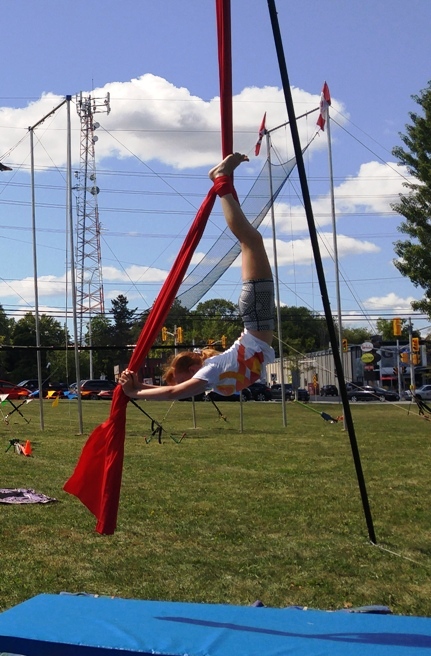 The circus camp info
Our summer 2020 camp is for 8-15 year olds.
Have fun, stay active, make friends.
Our team has been running the circus day camp with great success since 2005. Every year we continue to accomplish something unique for Ottawa youths.
As always, the camp is run by professional circus artists and highly qualified coaches and brings an opportunity for kids and youths to learn skills and techniques first hand from experts in each of the circus discipline.
No experience necessary, circus art forms are taught progressively such as aerial silks, juggling, flower-sticks, poi, diabolo, hula-hoop, acrobatics, tight-rope and tumbling.
Sign up today before we fill up!
Youths who have passed the age for camp and want to come as volunteers are invited to send us an email expressing their desire and availability. We encourage the older more experience youths to help the younger beginners as this creates some extraordinary teamwork and helps everyone shine.
Parents are invited to the kids circus performance at the end of each week.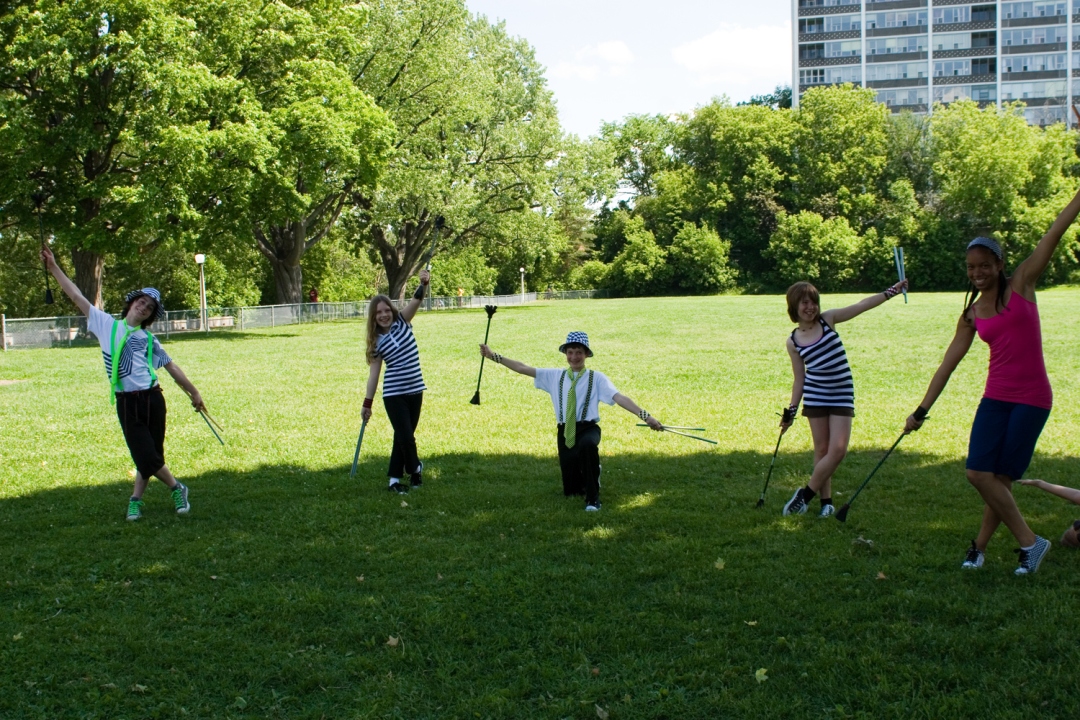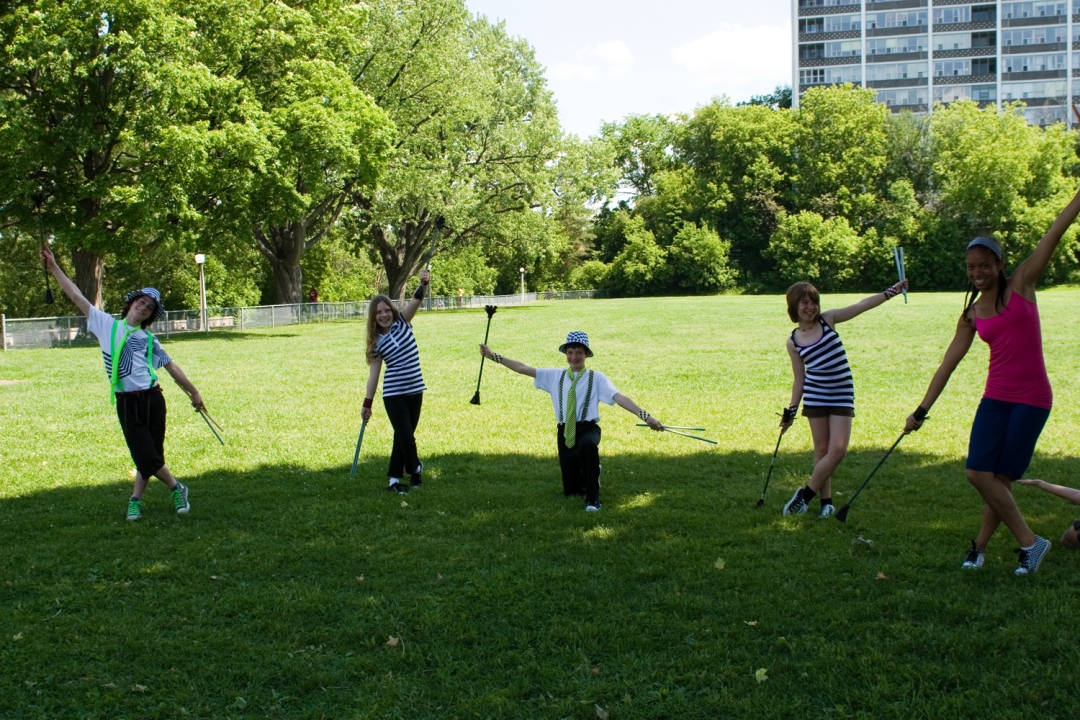 Frequently Asked Questions (FAQ)
How much does the camp cost?
$410 for each participant for 1 week
$30 for each participant for extended hours (aftercare to 5:30pm)
If I have credit on my account can I apply it to the camp?
Yes
Is there a discount for a sibling?
We are sorry to say that we cannot offer sibling discounts this year as funds are just too tight. We will, however, offer a 50% subsided on 1 spot each week, send us an email if this is of interest and will draw a spot at random. You may do this before or after your registration.
What should my child bring every day?
Everything should be clearly labeled including all food containers:
– 1 cold lunch (ice pack in the lunch box recommended), 2 full bottles of water (leak-proof and ice in the there recommended), 3-4 snacks (no peanuts or nuts) (no fridge nor microwave).
– Wear clothing that allows for freedom of movement (stretchy fabrics and fitted clothing are best for going upside-down). No zipper nor jewelry nor any metal or hard plastic that could snag the aerial fabrics.
– Sunscreen will only be applied by the parent before camp or by the child if reapplication is needed during the day, hat and clothing appropriate for the daily weather we will be outside every day.
– Good shoes that stay on tightly, sports sandal are good, sneakers or running shoes for training on the grass, though we will be barefoot for most of the activities.
-Swimsuit and towel and waterproof bag for the adjacent splash pad
– Avoid bringing all other personal items or electronics. If the child has their own circus props they can bring them but be sure to clearly label each item.
What does a typical day/week at Circus camp look like?
On a typical day the kids will learn circus techniques and play circus-related learning games for most of the day they learn and develop skills in the different circus disciplines offered through the week, the focus is on challenge and fun.
On the Mondays and most Tuesdays of each week, the kids will explore each circus art  and have an opportunity to learn the basics and/or develop and perfect skills in these disciplines. As the week progresses the kids will choose one or some of these art forms to pursue and specialize. Towards the end of the week, the kids will participate in the production and presentation of a mini-show with their chosen form of circus and on the Friday will rehearse and perform the show for the parents.
What is the schedule?
8:45-9:15 drop-off
9:15 to 3:45 circus camp
3:45 to 4:00 pick up
4:00 to 5:30 post-care relaxing, games visiting the adjacent park if city guidelines permit
Friday end of week show 3:30 first group and 4:00 for the second group
What if it rains?
Rain or Shine! Hot or cold! We will have shade and rain covers and the camp will happen rain or shine. In the case that there is an extreme weather condition in the forecast such a very strong wind storm or weather of an intensity that is such that even under a rain or shade cover it cannot be possible to run the camp that day, then that day will be canceled with as much notice as possible. If the camp day is canceled for one of these reasons, the coaches will offer an online shorter version of the camps with the space and material you would have at home.
What happens at post-care?
Pre and post care is a time to relax, we offer free-form non-structured activities supervised by our staff.
Can I register now but add the pre and post-care later?
No, you must register for post-care at the time of registration we will be putting all the children who are in posts care in the same group since we cannot merge the cohorts.
Can my child participate in more than one week?
Yes, absolutely! Although the formula of the week remains similar, each week the kids can build on their already acquired skills. If children are beginners, they must register for at least one 'All Levels' prior to registering for the 'intermediate/advanced week'. Each week the end of the week show is a little different. Some of our participants have been coming multiple weeks during the summer for several years.
Do you have a fridge or microwave?
No, children must bring a cold lunch and snacks and an ice pack is highly recommended.
Do the kids get fresh air during the day?
That is all they will get this year!
Are there any outings during the week?
No outings, we stay at the location all week, other than taking little breaks in the adjacent park.
What is the ratio of coaches to children?
For the summer 2020 ratio is 1:7
Can the parents watch?
Parents are invited to the end of the week show on Friday of every week at the end of the day. As for watching during other times, it is often a distraction for the child if the parent stay to watch the lesson, but as long as the parent is discreet we are flexible on this. Parents are not permitted to enter the day camp area.
Can my child participate if he or she is younger than the age requirement, do you make exceptions?
For summer 2020 we will not be making any exceptions, the child must be 8 years old at least on the first day of camp.
Can my child participate if he or she is older than the age requirement, do you make exceptions?
Yes, on condition that the child him or herself is comfortable in a group setting with younger children.
How can my teen apply to be a volunteer at the camp?
If your teen is 15 years + and is interested in assisting with teaching at the camps, they must write their own letter of intention via email outlining their interest and their training/work experience in the circus field and describe which circus art forms they have specialized in. They must include which weeks they are available. They must be available for one full week at a time 9 am to 4 pm.
Can I pay in installments?
Full payment is required for camp registrations.
I'd like to work or volunteer at the camps?
We are currently accepting applications for circus teachers and assistant teachers of minimum 15 years plus.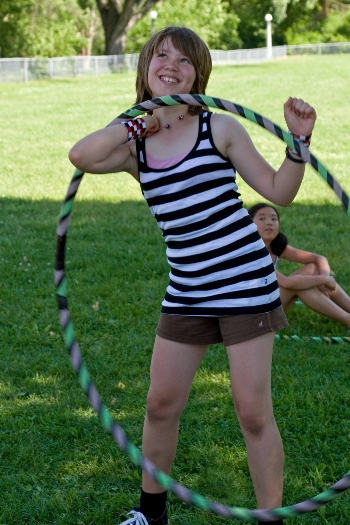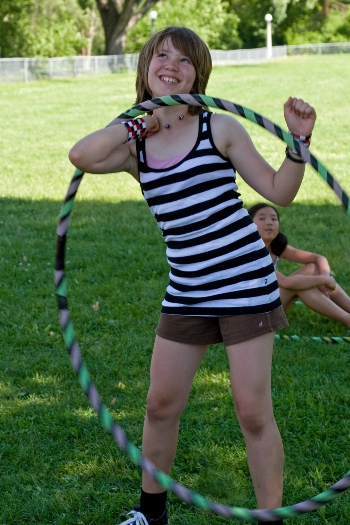 We know COVID means different rules: What will be the same in summer 2020?
– Learning circus skills all day in camps or hour-long weekly classes from engaging and highly qualified coaches. Participants of all levels are welcome from beginner to advanced students. They will learn skills at their pace, have fun and be creative while getting stronger and more flexible with each day. Most of our same activities will be available: aerial silks, floor gymnastics, juggling and other circus props.
We know COVID means different rules: What will be different in summer 2020?
-All programs will be for 8 year old's and up only to best be able to manage distancing requirements. There will be no age exceptions this summer.
-New venue, outside, enjoying the summer (under shade and rain covers)
-Smaller group, 4 to 6 kids in each cohort (to a maximum of 7) with their coach, each cohort will not mix with other cohorts.
-Closely following COVID public health guidelines for distancing, cleaning and group sizes and modifying whenever necessary to comply with guidelines if these change.
-No sharing of equipment, in day camp each child will have a designated box with their circus props for the week including their own aerial silks, flower-sticks etc. For this reason, a few of our regular prop will not be available, we will avoid trapeze and lyra in camps since we do not have enough for all the children. Also unicycling will be out this summer since we will be on grass and we cannot teach beginner without proximity and physical contact of holding their hand.
-End of week show will be staggered for the groups. Parents will watch from a bit more of a distance outside the camp line.
-No hands-on spotting from the coaches nor close proximity for the moment nor any contact activity between participants and therefore some modification for teaching skills and the curriculum will need to be implemented. The techniques will be taught more progressively and focus on making sure the students build the strength and body awareness necessary to be ready for each new technique as they progress minimizing the risks of injury, some moves will be avoided this summer and beginners will stay low to the ground for aerials and focus on the fundamentals for floor gymnastic. But note, even if we need to avoid certain moves that have higher risk there are so many low-risk moves we can do and have fun with during the programs. This may change if the restrictions are eased during the summer.
-Smaller group sizes to comply with the regulation will also have the advantage of offering a more personalized approach to the instruction and maximizing the learning of new skills and techniques.
-Our prices will be in line with our previous low-ratio price point only; this is unavoidable with the extra costs involved now with the COVID situation all classes are considered low-ratio. 1 subsidized spot with be available each week.
-Morning pre-screening will be in effect following the provincial Ontario Day Camp guidelines, all participants and staff must self pre-screen including taking their temperature each morning and filling out a form online at home before coming to attest that they do not have any of the usual COVID symptoms. No one with symptoms will be allowed and will be recommended for testing, they may be allowed to return after testing negative and being symptom free.
-Parents must provide at least 2 to 3 emergency contact numbers of people who could come pick up their child immediately if the child begins to have symptoms during the camp day. If a child does begin to show symptoms they will be isolated from the group and stay with a staff member at 2 meters apart while waiting for their pick up.
This page will be updated if any information changes.
If you would like updates:
Above: TV interview during our 2008 March break camp. Since that time our camps have grown and expanded and Mini Cirque is re-branded as Ottawa Circus and Ottawa Circus School. Same wonderful camps but better.