We are offering circus parties again!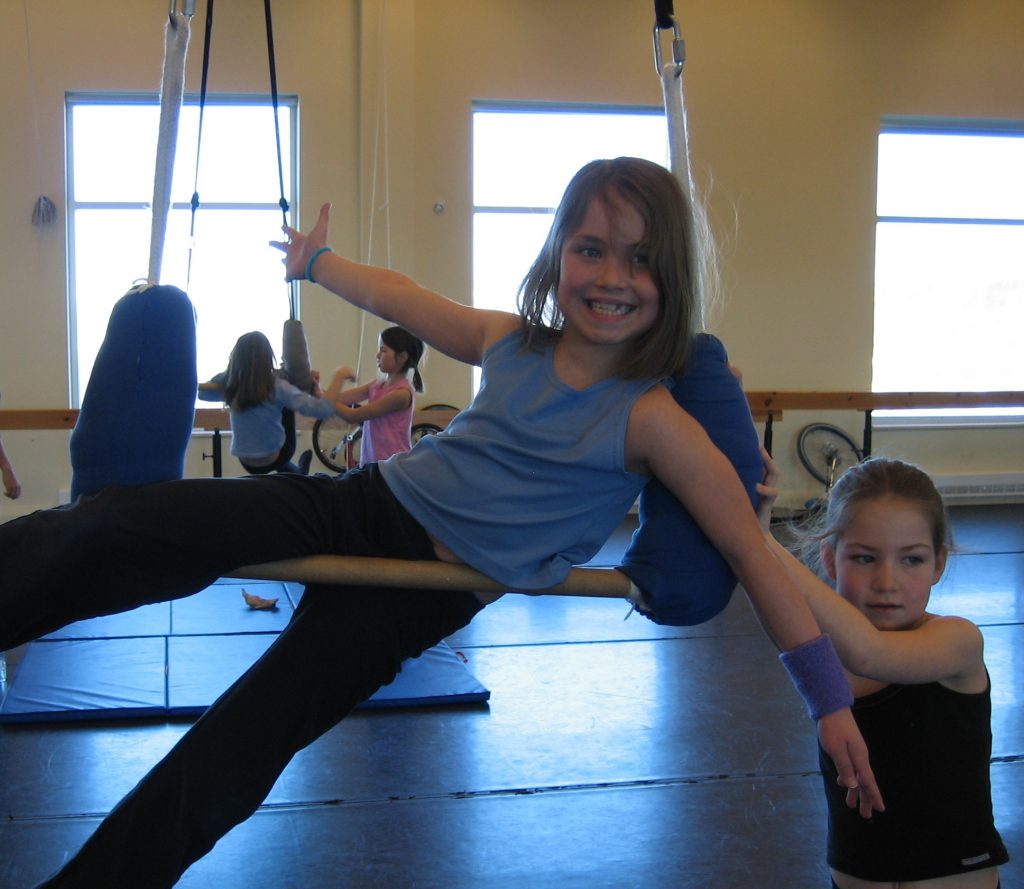 We offer special and memorable parties for the birthday child and the guests. Age is for 6+. Let us entertain your group by letting them join the circus for a couple of hours and learn some accessible circus skills with our expert coaches. Then head to our party room to have your snacks and cake. We'll even clean up.
What happens at the party?
Come visit the circus school for 1.5 or 2 hours.
The first part of the party is a 1-hour or 1.5-hour circus workshop with our fantastic circus coaches (see the full description of the list of super fun activities below in our FAQ).
Then for the second part, you have access to our party room for 30 minutes, or more if needed, for your snacks and gifts (tables, chairs and decorations provided, you bring your own food and drinks). The party room seats a total of 28 people, or a couple more if you squish in.
The number of children includes the birthday child. Younger siblings, 3 years or less, can come at no charge, but must be closely supervised by a parent for their safety.
See our frequently asked questions below or fill in the time slot request form to inquire about dates and availability.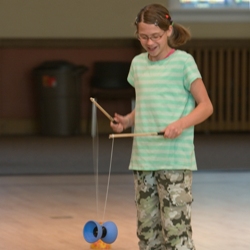 More about the 1 or 1.5 hours of circus workshops in the studios with our coaches:
We start with a warm-up/ice-breaker game then our fantastic coaches teach a variety of circus disciplines including some of the following: juggling scarves and balls, spinning plates, flower sticks, diabolos, poi, tightrope, hula hoop tricks, balancing, aerial silks and or trapeze. We start with simple circus tricks that are adapted to the age and level of the participants and we gradually add challenges making sure everyone is engaged and having fun while learning circus skills. At the end of the workshop, we invite the group to sit down for a short special performance by the amazing circus school coaches and then we gather the participants for you to take a group photo.
More about the 30 minutes in the party room:
After the workshops, you head to the party room. We leave you to yourselves in the party room for you to have your snacks, cake and gifts. You bring your own snacks and cake and plates, etc, and we take care of cleaning up.
Options
3-7 kids – 1 coach – 1.5 hours – $250
3-7 kids – 1 coach – 2 hours – $300
8-14 kids – 2 coaches – 1.5 hours – $350
8-14 kids – 2 coaches – 2 hours – $450
15-21 kids – 3 coaches – 1.5 hours – $500
15-21 kids – 3 coaches – 2 hours – $650
22-28 kids – 4 coaches – 1.5 hours – $600
22-28 kids – 4 coaches – 2 hours – $750
Click here to request a time slot
Dress code: Athletic wear. No jewelry, as these could snag the aerial fabric. Absolutely no: zippers, buttons, eyelets, plastic or metal of any kind on clothing as these could tear the fabrics as well as be uncomfortable for the trapeze. Leggings or track pants are great. A top that is either fitted or can tuck into the pants is ideal for going upside down. Long hair tied back. We will work mainly in socks and barefoot.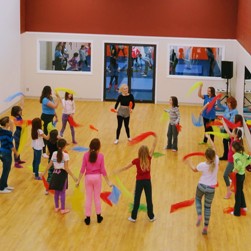 We can provide cups and a water jug; the tap water is good to drink.
Gifts for your guests?
Rather than loot bags, you could offer each guest a small circus prop such as juggling scarves or juggling balls, spinning plates or peacock feathers for balancing from our shop. We offer you a discount for a quantity of more than 6 items. These cost between $10-$20 per item. The kids are welcome to play with them as they wait for their parents to pick them up. Check out our shop page to see what we have and add these to your reservation.
FAQ
How early do I need to reserve?
We have 2 to 3 time slots available each Saturday. The earlier you reserve the more chance we have of having a time slot available. We will do our best to accommodate last-minute requests, but generally, 1 to 3 months ahead of time is usually good.
Do I need to bring decorations?
It is not necessary for you to bring decorations. This is our mezzanine party room (from our old locations) be are working on decorating the new location in a similar way; so that it is nicely decorated as is.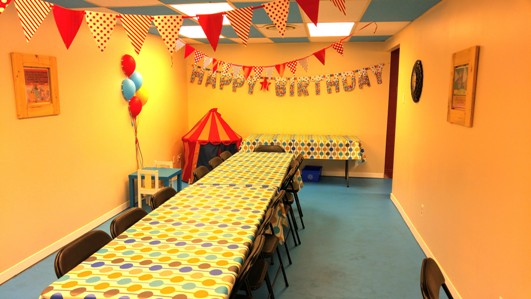 What age groups are the parties for?
The ideal age groups start at 6-year-olds. 4 and 5-year-olds can also have fun, but that would be the youngest. We also have a party for teens and even adult parties. We tailor the activities and the pace to the age group and the level of the participants.
Do you do adult birthday parties? We don't need the birthday room, we'll just go out after.
We sure do! Cost is $35 per participant or a minimum of $110 for a 1-hour private workshop and $50 per participant or a minimum of $165 for a 1.5-hour workshop.
What do the parents do during the children's workshops?
The parents are welcome to join in the activities, stand back and take photos or just sit down, relax and let us entertain the children. It's completely up to you. Parent do not need to be there for the workshop but they are in charge of the group during the party room time of the party.
What about food, drinks and cake, plates and utensils?
You will bring all your own food, drinks, cake, plates and utensils. We provide tables, tablecloths and chairs in a festive-looking room. We take care of cleaning up. There are no food restrictions, but we encourage you to check in with your guests regarding any allergies.
Food is permitted only in the party room.
Note there is currently no fridge nor microwave.
We provide jugs of water and cups. No need to bring water bottles. The tap water is good to drink.
Do you provide catering?
We do not provide catering yet, but we are working on having this option available for our clients in the future. Many of our clients opt to order pizza and have it delivered to the circus school. Or you may bring your own food.
When do I need to pay? How do I pay?
Full payment is needed to book your reservation. We accept Visa, Master Card, e-transfer and cash. We cannot accept debit cards. Visa debit is accepted. We will email you a link for credit card payment when you book your time and date, or you can come in when someone is available at the front desk and pay cash if you prefer.
What is your cancellation policy?
Birthday parties are non-refundable. When we reserve the coaches and spaces for your group then we turn down others.
What if I'm not sure how many guests will confirm, how do I know which package to get?
If this is your situation, we recommend that you let us know. Sometimes it is possible to start with a smaller package reservation and then upgrade, especially if this doesn't change which party room you need and you are well in advance. We do need to make sure we have enough coaches for the size of your group, so the earlier you can finalize the more chance you will have of being able to upgrade your package. We can't guarantee last-minute upgrades since we need to make sure we have the correct ratio of coaches to students to make sure we can keep an eye on safety and make sure everyone has as much fun as they can. But, will do our best to accommodate as much as possible.
My child is especially interested in one or two particular circus art form (juggling, trapeze, aerial arts in general, hula hooping), can we make sure to do this activity/can we only do this activity?
We will do our best to tailor the party to your child's interest. If there is something you want to spend more time on or make sure we include, especially if you are buying some circus props as gifts for your guest, then do let us know at the time of reservation.
How early can I arrive? How much time in advance can I access the party room?
Feel free to arrive up to 15 minutes early and bring all your things in. If the party room is busy there is space in the studio to leave the gifts and food. Many times the small party room will be empty during the workshop, and so parents are welcome to start setting up while the children are in the workshop. On some occasions, you may have 5-10 minutes to set up your food, but our staff will be happy to help.
What about accessibility, do you have ramps?
The training studios are at ground level but there is a 3-inch step at the entrance. Our washroom is not wheelchair accessible.
I would like to come to see what the circus school looks like, is this possible?
You are welcome to come by anytime we have classes going on to take a peek at the studios and party room if there is not a group there at that time. There may not be staff available since we might all be teaching. If you come during our open gym sessions on Tuesday afternoons or Sunday afternoons, someone will be available to show you around and answer any questions you may have. Or you can make an appointment. See our schedule of classes to find out when we are open.
Do my guest's parents need to sign waivers?
Yes. We will include the link in your confirmation email. You can also view or print it here: Waiver for Child
Ready to find a time slot for a super fun party?
Scroll back up and submit the 'Request a time slot' form.