AcroYoga (AKA as Acrobatic Partner Yoga or Contact Yoga)
(More videos at the botom of this page)
The summer session has begun but you can drop-in to a class any time or sign up for the rest of the session at the pro-rated price.
| Season | Type | Level | Dates | Time | Cost | Registration dates | Register here |
| --- | --- | --- | --- | --- | --- | --- | --- |
| Summer | Class session | All levels | Wednesdays July 5th-Aug 30th | 6:15pm-8:15pm | $180 for 9 classes | Registration is open! | |
| Fall | Class session | Intermediate* | Wednesdays Sept 6-Dec 20 | 6:15pm-7:45pm | $256 for 16 classes | Registration is open! | |
| Fall | Class session | Beginner | Mondays Sept 4-Dec 18 (excl. Oct 9) | 7:30pm-9:00pm | $240 for 15 classes | Registration is open! | |
Join us anytime even after a session has started. Feel free to drop in for a class anytime during the session for $25 (+tax) or sign up for the remaining weeks of a session at the pro-rated price of $20 (+tax) per class. Check class availability before dropping in or sign up by clicking the 'Register here' link above.

What is Acroyoga?
Partner lifts with a yogic consciousness.
Yoga concepts of good body alignment, movement and breath are mixed with the strength training of acrobatics and the playful kindness of community building all with a dash of dance aesthetics. No matter what your previous experience, we will guide you to achieve fluid transitions through postures that might seem inaccessible but can be attained through practice, techniques and partner awareness.
Throughout the session, participants will be supported in order to move confidently into progressive postures, with safe spotting techniques.
So join the playful fitness movement for fun-filled evenings of partner postures, counterbalancing, and lifts!
Hope to see you there!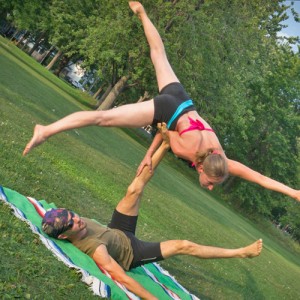 Beginner level: No experience necessary. Discover how some of those impressive lifts are actually accessible to you. Week to week you'll progress and build strength and flexibility to master the basic lifts.
*Intermediate level: You have solid basics and are ready to challenge yourself safely in more advanced progressions and transitions. Intermediate prerequisite: base or fly all of the following: bird, bow, upward facing bird (plank), throne, shoulder stand, reverse shoulder stand, star, cartwheel to bat, plus 1 minute plank and 20 second handstand at the wall.
All-levels class: From absolute beginner to advanced student. The classes offer something for everyone to learn at each class.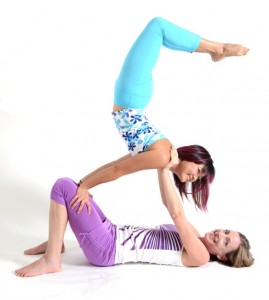 Wear fitted stretchy clothes for going upside down.
You're welcome with or without a partner; you'll match up with others or with an instructor. We usually work in groups of 3
More videos of instructors and the Ottawa Community in practice: