Covid update: Acroyoga is currently suspended due to the pandemic. We will focus on non-contact circus activities.
AcroYoga (aka as Acrobatic Partner Yoga or Contact Yoga)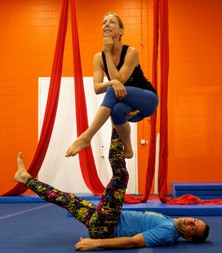 Acroyoga is a community activity. We support each other in lifting each other up, literally and figuratively. From week to week Sophie assisted by Marc will teach you progressions towards some fun sequences of partner lifts and make sure you get into some good habits to avoid injury and progress your technique each class. We work mainly in groups of 3 and rotate between positions of base, flyer and spotter and we practice on a padded gymnastic floor. Each class contains strength building and stretching so you can build strength and flexibility as you practice.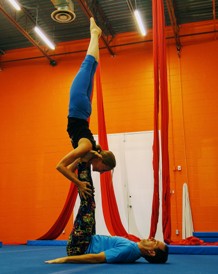 You are welcome to come with a friend or 2 or come alone, most people come alone and we match up in class into groups of 3. More info on the different levels as well as more videos below. You can join anytime even if the session has already started. Hope to see you there!
You can join anytime as a drop-in or join the session as regular weekly student as long as the class isn't full.

Promotions
Family discount: The second and third and fourth member of the same family receives 5% discount on the registration. Must register all people at the same time for session to receive this discount.
Prices for Sept 2019 to June 2020 session
Register online with a credit card or register in person with cash.
Option#1 Registering for the session with monthly installments (3 month minimum commitment): Prorated $19.70+tax/class. your spot is guaranteed in the class. You register for the year until the end of June with monthly payments of approximately $70/monthly, but you can always cancel at some point during the year. See our FAQ and Policies pages for cancelling policies.
Option #2 Drop-ins pay one class at a time :$22.12+tax/class for one class at a time : you can reserve your drop-in spot within 7 day if the class is not full or take a chance an show up 15 minute before class.
Option #3: buy a 10 class multi-pass: $215 can be used for any regular classes at the circus school. You can purchase a multi-pass first and then reserve your drop-in spot online within 7 days of a class using your pass at check out. Your pass will be valid for 1 year from date of purchase and will be in your online account no need to print anything.

Clicking on the register buttons above will show you the price and number of spots left.
More about the different price options on our FAQ page.
Dates:
School year: Sept. 8, 2019 – June 13, 2020
Excluding holidays

More about Acroyoga?
Partner lifts with a yogic consciousness.
Yoga concepts of good body alignment, movement and breath are mixed with the strength training of acrobatics and the playful kindness of community building all with a dash of dance aesthetics. No matter what your previous experience, we will guide you to achieve fluid transitions through postures that might seem inaccessible but can be attained through practice, techniques and partner awareness.
Throughout the session, participants will be supported in order to move confidently into progressive postures, with safe spotting techniques.
So join the playful fitness movement for fun-filled evenings of partner postures, counterbalancing, and lifts!
Hope to see you there!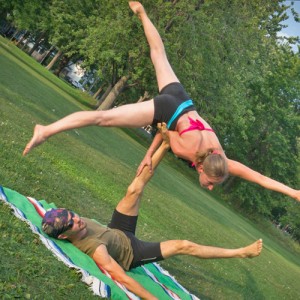 Beginner/all level classes: Great for anyone just starting out or a few years into their practice. No experience necessary. Discover how some of those impressive lifts are actually accessible to you. Week to week you'll progress and build strength and flexibility to master the basic lifts.
*Intermediate level: You have solid basics and are ready to challenge yourself safely in more advanced progressions and transitions. Intermediate prerequisite: can demonstrate a strong understanding of spotting techniques and can base or fly solidly all of the following: bird to throne to bird, upward facing bird (plank) presses, shoulder stand, reverse shoulder stand, elevator (star to bat and back to star), cartwheel mount to bat, tick-tocks (side star to bat to side star), plus 1 minute plank and 30 second handstand at the wall.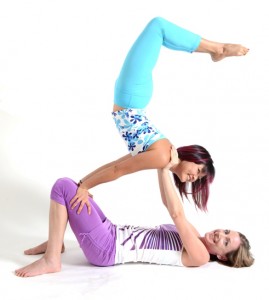 Dress code: Wear fitted stretchy clothes for going upside down.
You're welcome with or without a partner; you'll match up with others or with an instructor. We usually work in groups of 3.
Bring a water bottle, the tap water is good to drink

More videos of instructors and the Ottawa Community in practice: