Want to be notified when our new registration opens?

Aerial Arts
In the aerials class, children ages 6+ years practice 1 or all 3 of the apparatus: trapeze, silks and lyra. The class structure allows each participant to progress at their own pace. Safety is a priority and techniques are taught progressively and low to the ground first over crash mats and our ratio of 1:7 (regular classes) or 1:4 (low ratio classes) allows for lots of individual attention and spotting. Part of each class is floor work to build strength flexibility and body awareness to then learn the fun and exhilarating moves on the aerial apparatus!
Floor Gymnastics & Acro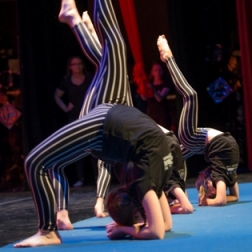 Floor gymnastics and acro includes tumbling, handstands, partner lifts, strength and flexibility training. This class helps kids develop strength, flexibility and body awareness and is a great foundation for all the other circus arts. It is also a great complementary class when students come for 2 or more classes each week. In this class, children will learn floor gymnastics technique such as dive rolls, front walk-overs, cartwheels moving towards hand springs and flips as well as the basics of hand-to-hand acrobatic lifts, acro-sport and human pyramids. Some contortion training is included for those who are interested.
Prop manipulation and juggling and unicycle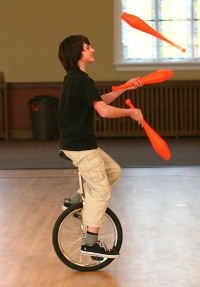 In this class, children ages 10+ can join the unicycle and prop manipulation class and work on one or both of these discipline. Guided by our coaches they will learn skills with various circus props such as balls, scarves, clubs, rings, flower-sticks, diabolo, poi and more. Learn to pass clubs, do impressive tricks, create sequences and find your flow.
Cycling on one wheel takes some practice and guidance to get the feel but once you have it is so much fun. Unicycles and props are available to use during class and for sale. Wear clean indoor shoes that are closed toe and that tie up snugly.
Mixed circus arts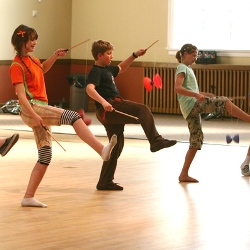 This class will offer the children the opportunity to learn a wider variety of circus arts. In this class: 1/3 of each class is aerial arts, 1/3 is floor gymnastic/tumbling/acro and 1/3 is juggling and prop manipulation. Some unicycle will be taught as well in the 8+ year old groups.
This is great way for the children to try different things and see which circus discipline they enjoy the most or continue to learn all 3.
Dress code for aerials and tumbling : No jewelry. Wear athletic clothing that is stretchy but fitted so you can move freely and go upside down. Long leggings or track pants are good and shirts with sleeves are usual ideal for certain moves. Absolutely no zippers, buttons, eyelets, plastic, velcro or metal of any kind on clothing these could tear the fabrics as well as be uncomfortable for the trapeze and lyra. We will work barefoot.
Dress code for unicycling: Clean indoor shoes
Dress code for juggling and balancing: athletic clothing that allows freedom of movement
Bring a water bottle and yoga mat.
Would you like a notification when a new registration opens? Join our mailing list.

Do you have questions?
See our FAQ page or contact us.
Youth volunteer opportunities
For intermediate to advanced kids and teens, 12+ years of age
Youths of 12 yrs or more who have done at least a full year of circus programs and have a good grasp of the basic techniques in some or most of the art forms can offer to be assistant teachers. They would help teach the basics to the younger and more beginner kids and also have the opportunity to learn new tricks every week themselves as well practice their circus skills and provide inspiration for beginner students. If they come as volunteer helpers, their participation is free, if interested please contact us in advance to see if they qualify.
A few of our volunteers have now become instructors.
Do you have questions?
See our FAQ page or contact us