About the Mixed Circus class: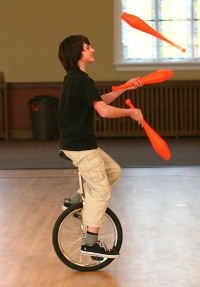 Participants are guided by our excellent coaches into the wonderful world of circus where they are stimulated both physically and intellectually. The classes are a great form of fun exercise and an opportunity to learn a wide range of circus skills!
In this all levels class for teens, beginners will be introduced to all the different circus discipline available and experienced students will choose from the following discipline and mainly focus on 2 or 3 of these
-Aerial silks
-Static Trapeze
-Lyra
-Tumbling/floor gymnastics/acro
-Juggling
-Prop manipulation (flower-stick, diabolo, poi, etc)
-Unicycle
-Rola bola/balance board/balance ball
Teen circus classes will resume in September. For the summer, join the teen aerial class.
Circus Props, Juggling and/or Unicycle
[table id=90 /]
Gymnastics
[table id=99 /]
Floor Gymnastics and Acro
[table id=101 /]
Price and Payment options:
Register in advance online with a credit card or register in person with cash.
Weekly 2 hour classes are $29.50+tax prorated to the amount of classes remaining in the session.
You can register for full session either in 1 lump sum or with 1 initial installment and monthly payments. There are no refunds on payments received, but you can cancel future monthly payment anytime though the session. E.i. you would like to end your classes on January 31st, just cancel by sending us an email on January 10th before the January 15th payment goes through. See our FAQ and policies pages for cancelling policies
Dates:
Summer: July 3 – Sept.7
School year: Sept. 8, 2019 – June 13, 2020
Excluding holidays

Excluding holidays
Dress code for aerials and tumbling : No jewelry. Wear athletic clothing that is stretchy but fitted so you can move freely and go upside down. Long leggings or track pants are good and shirts with sleeves are usual ideal for certain moves. Absolutely no zippers, buttons, eyelets, plastic, velcro or metal of any kind on clothing these could tear the fabrics as well as be uncomfortable for the trapeze and lyra. We will work barefoot.
Dress code for unicycling: Clean indoor shoes
Dress code for juggling and balancing: athletic clothing that allows freedom of movement
Bring a water bottle, or buy one of ours, the tap water is good to drink.
Want a reminder when a new registration opens? Join our mailing list.

Do you have questions?
See our FAQ page or contact us.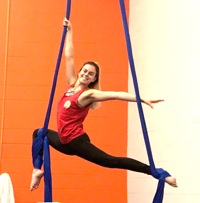 Coaches will guide the student to learn skill at their pace.
Eventual performance opportunities will come over the next school year.

Classes are for all levels and the instructors excel at finding just the right amount of challenge for each child to progress week to week throughout the year. A group dynamic and skill sharing is encouraged.