New classes have been added to the schedule. See all available places in each class and register here:

Aerial Arts
In the Mix-Aerials class, youths 12 to 15 years practice 1 or all 3 of the apparatus: trapeze, silks and lyra. The class structure allows each participant to progress at their own pace. Whether for an introduction to the aerial arts or for pushing the technique in a particular discipline, our highly experienced and skilled coaches are here to share our passion and expertise!
Floor Gymnastics & Acro
Floor gymnastics includes tumbling, handstands, partner lifts, strength and flexibility training. This class helps teens develop teens strength, flexibility and body awareness and is a great foundation for all the other circus arts. It is also a great complementary class when students come for 2 or more classes each week. In this class, teens will learn floor gymnastics technique such as dive rolls, front walk-overs, cartwheels as well as the basics of hand-to-hand acrobatic lifts, acro-sport and human pyramids. Some contortion training is included for those who are interested.
Prop manipulation and juggling
In this class, teens will be guided by our coaches to learn skills with various circus props such as balls, scarves, clubs, rings, flower-sticks, diabolo, poi and more. Learn to pass clubs, do impressive tricks, create sequences and find your flow. Juggling and prop manipulation is fun, a great workout for the upper body and nice way to meet new people.
Unicycle
Cycling on one wheel takes some practice and guidance to get the feel but once you have it is so much fun. Join our coaches to learn the basics as well as more advanced tricks. Unicycles are available to use during class and for sale. Wear clean indoor shoes that are closed toe and that tie up snugly.
Mixed circus arts
This class will offer the teens the opportunity to learn a wider variety of circus arts. In this 1.5 hour class: 30 minutes of each class is aerial arts, 30 minutes is floor gymnastic/tumbling and 30 minutes is juggling and prop manipulation. Some unicycle will be taught as well. This is great way for the teens to try different things and see which circus discipline they enjoy the most or continue to learn all 3.
You can join the session after it has already begun as long as the class isn't full.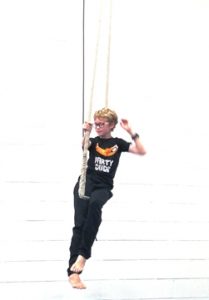 Promotions:
Family discount:The second and third and fourth member of the same family receives 5% discount on the registration. Must register all people at the same time to receive this discount.
Price and payment options for the Sept-June session:
Register online with a credit card or register in person with cash.
Classes are $19.70+tax prorated to the amount of classes remaining in the session.
Low ratio classes or 1.5 hour classes have the same format but are 1.5 time the price.
You can register for full session either in 1 lump sum or with 1 initial installment and monthly payments of approximately $70/monthly. There are no refunds on payments received, but you can cancel future monthly payment anytime though the session. See our FAQ and Policies pages for cancelling policies.
Dates:
School year: Sept. 8, 2019 – June 13, 2020
Excluding holidays
Dress code for aerials and tumbling : No jewelry. Wear athletic clothing that is stretchy but fitted so you can move freely and go upside down. Long leggings or track pants are good and shirts with sleeves are usual ideal for certain moves. Absolutely no zippers, buttons, eyelets, plastic, velcro or metal of any kind on clothing these could tear the fabrics as well as be uncomfortable for the trapeze and lyra. We will work barefoot.
Dress code for unicycling: Clean indoor shoes
Dress code for juggling and balancing: athletic clothing that allows freedom of movement
Bring a water bottle, or buy one of ours, the tap water is good to drink.
Want a reminder when a new registration opens? Join our mailing list.

Do you have questions?
See our FAQ page or contact us.