Bring your group to visit the circus school. Up to 40 participants at a time.
This option is great for groups of adults or groups of children 6+ years. We have welcomed schools, day camps, scouting groups, bachelorette parties, team building groups or just a group of friends wanting to do something fun.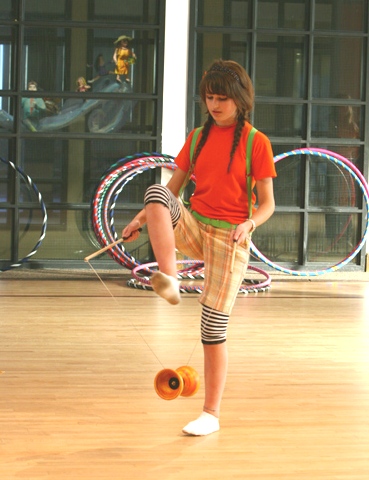 Come visit with your group: try a variety of circus arts
Come and see us in our training studios in Ottawa. Participants will have the opportunity to learn skills in a variety of circus arts with our expert coaches.
An introduction to circus arts
Ages 6-7 : duration of 1 hour
Ages 8 to adult: duration 1 to 4 hours.
We can accommodate up to 35 participants at a time.
Here's what you can learn during the mixed-circus workshops or the you can choose to focus only one or 2 or the following :
Juggling and the prop manipulation arts (flower-stick, poi, hula hoop, diabolo, spinning plates etc.),
Aerial Arts (trapeze, silks, lyra)
Balancing (tight rope, balance ball, unicycle)
Acrobatics (floor gymnastic, partner lifts and human pyramids adapted to the level of the group)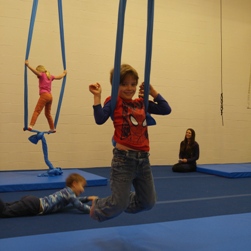 The participants will rotate through the different circus disciplines and end with a professional demonstration.
Price per participant per workshop
$15 for 1 hour
$20 for 1.5 hours
$25 for 2 hours
$35 for 3 hours
$110 minimum per hour for groups
HST applies
Dress code: Athletic wear. No jewelry, these could snag the aerial fabric. Absolutely no: zippers, buttons, eyelets, plastic or metal of any kind on clothing these could tear the fabrics as well as be uncomfortable for the trapeze. Leggings or track pants are great. A top that is either fitted or can tuck into the pants is ideal for going upside down. Long hair tied back. We will work mainly in socks and barefoot.
Reservation :
ottawacircus@nullgmail.com
(613) 416-9569