Bring your group to visit the circus school. Up to 30 participants at a time.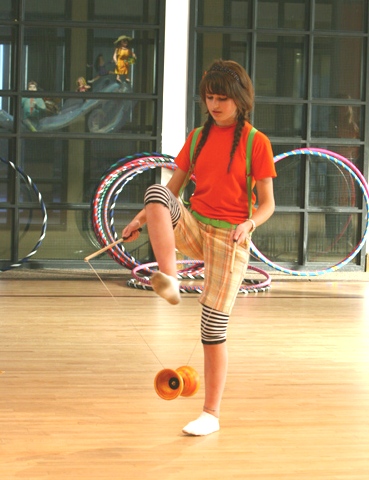 Come visit with your group: try a wide variety of circus arts
Come and see us in our training studios in Ottawa. Participants will have the opportunity to learn skills in a variety of circus arts with our professional circus artists.
An introduction to circus arts
Ages 2 ½ to 6 : duration of 1 hour
Ages 6 to adult: duration 1.5 to 4 hours
We can accommodate up to 30 participants at a time.
Here's what you can learn during the workshops :
Juggling and the prop manipulation arts (flower-stick, poi, hula hoop, diabolo, spinning plates etc.),
Aerial Arts (trapeze, silks, lyra)
Balancing (tight rope, balance ball, unicycle)
Drama (with the accent on clowning)
Acrobatics (floor gymnastic, partner lifts and human pyramids adapted to the level of the group)
The participants will rotate through the different circus disciplines and end with a professional demonstration.
Price per participant per workshop
$15 for 1 hour
$20 for 1.5 hours
$25 for 2 hours
$35 for 3 hours
$100 minimum per hour for groups
HST applies
Reservation :
ottawacircus@nullgmail.com
(613) 416-9569