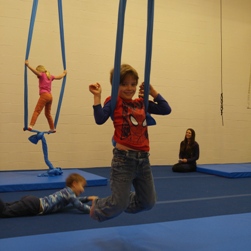 This day time class is especially for home-schooled children ages 6 to 14 years. The group will be divided into age groups.
Participants are guided by professional artists into the wonderful world of circus where they are stimulated both physically and intellectually. The classes are a great form of fun exercise and an opportunity to learn a wide range of circus skills!
Instructors will guide the participants to develop circus skills at their own pace in prop manipulation such as juggling, flower-stick, unicycling (for the older kids), diabolo, tight rope, acrobatics, aerials arts (trapeze and silks) and more.
Instructors are bilingual, French and English.
Registration for the fall programs opens on July 7th.
[table id=56 /]
You must register in advance so we can ensure the correct ratio of children to coaches. You may register online by clicking the register now button below and use a Visa or MasterCard. You may come in to register in person when there is someone at the front desk, please contact us to make sure there will be someone there as we do not have a full time receptionist.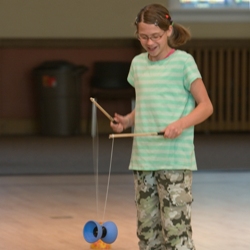 Dress code: Athletic wear. No jewelry, these could snag the aerial fabric. Absolutely no: zippers, buttons, eyelets, plastic, velcro or metal of any kind on clothing these could tear the fabrics as well as be uncomfortable for the trapeze. Leggings or track pants are great. A top that is either fitted or can tuck into the pants is ideal for going upside down. Long hair tied back. We will work mainly in socks and barefoot.
For 8+ years for the unicycle part of the class the children need clean indoor shoes (show that have not been worn outside) that tie up nice a snug.
Bring a water bottle, the tap water is good to drink.
Do you have questions?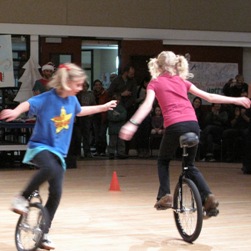 See our FAQ page or contact us.