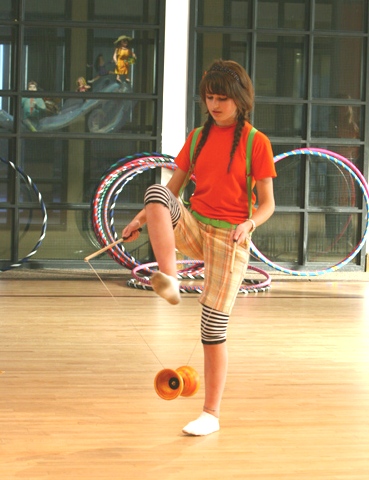 Participants are guided by professional artists into the wonderful world of circus where they are stimulated both physically and intellectually. The classes are a great form of fun exercise and an opportunity to learn a wide range of circus skills!
In the Mixed-Circus class, instructors will guide the participants to develop circus skills at their own pace in prop manipulation such as acrobatics, aerials arts, juggling, flower-stick, unicycling, diabolo, tight rope and more. Note there is not mixed circus for teens this fall.
In the  Mix-Aerials class we focuses on only the aerial arts such as Trapeze, silks, lyra and cube. Mixed-Aerial classes are on Tuesday evenings for the fall session, the session has already begun but you are welcome to join for the remaining classes at a pro-rated price.
Click the link to register for the remaining classes of the session.
Season
Type
Level
Dates
Time
Cost
Register here
Fall
Class session
All levels -
All ages
Tuesday Sept 5-Dec 19
4:45 pm-5:45 pm
$240 for 15 classes
Want a reminder when a new registration opens? Join our mailing list.