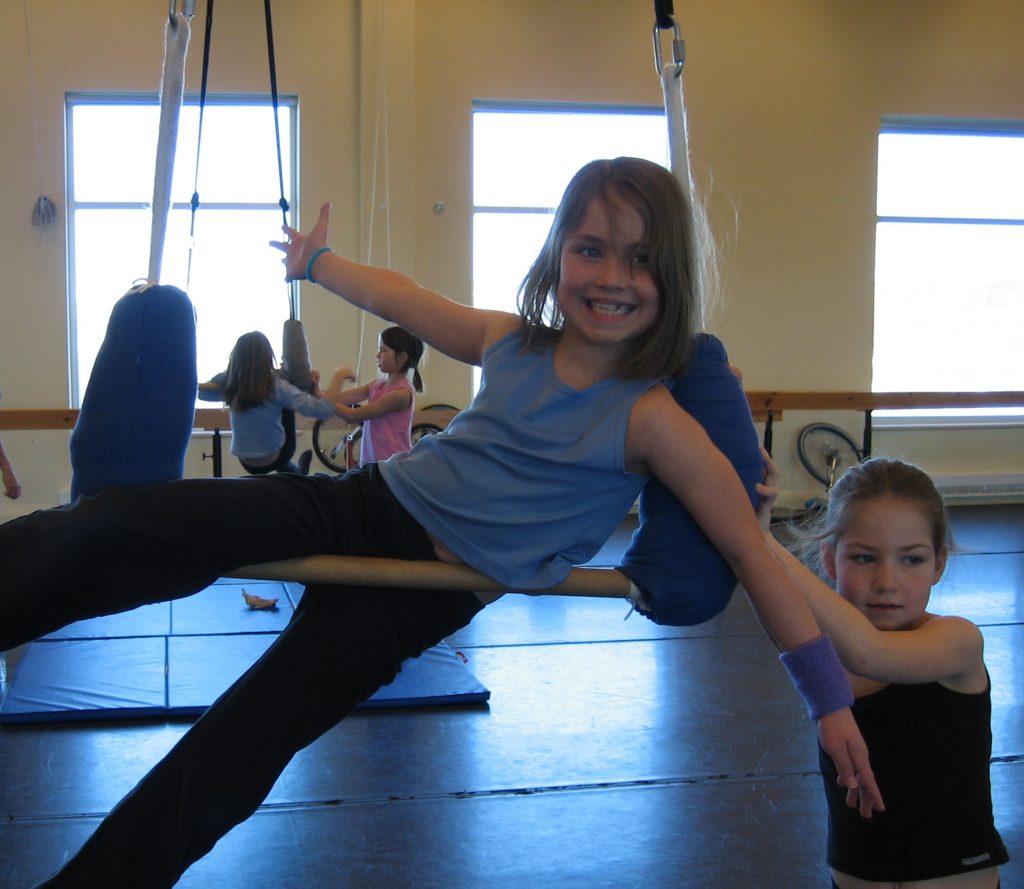 In the mixed-aerial class for children we will work with the following aerial apparatus: Silks, Trapeze, Lyra and cube. The class structure allows each participant to progress at their own pace. Whether for an introduction to the aerial arts or for pushing the technique in a particular discipline, our highly experienced and skilled coaches are here to share our passion and expertise!
Instructor : Vincent Poliquin-Simms, Joel Paulin, Maxime Yelle et Alvario Busta
Our fall session is already started but you are welcome to join a class for the rest of the session at the pro-rated price as long as it isn't full. Registration for the winter session begins on November 15th.
Season
Age
Level
Dates
Time
Cost
Register here
Fall
8-11 years
All levels
Tuesdays Sept 5th-Dec 19th
7-8pm
$240 for 16 classes
Fall
8-11 years
All levels
Saturdays Sept 9-Dec 16
10:45-11:45am
$210 for 15 classes
Fall
8-11 years
All levels
Sundays Nov 19 -Dec 17
10-11am
$75 for 5 classes
Winter
6-7 years
All levels
Mondays Jan 8 - Mar 5 (excl.
Feb 19)
6-7pm
$120 for 8 classes
Winter
8-11 years
All levels
Tuesdays Jan 9 - Mar 6
7-8:pm
$135 for 9 classes
Winter
8-11 years
All levels
Saturday Jan 6 - Mar 17
10:45-11:45am
$165 for 11 classes
Winter
8-11 years
Intermediate*
Sundays Jan 7 - Mar 18
9-10am
$165 for 11 classes
*Intermediate prerequisites : A minimum of 15 to 30 hours of classes or practice in the aerial arts. Be familiar with at least 10 movements on the trapeze and 10 movements on the silks Hold yourself suspended by your hands for 10 seconds Be able to invert yourself upside down while suspended by your hands (or be very close to it)
Dress code :Wear athletic clothing that is stretchy but fitted so you can move freely and go upside down. Good to have an option of long pants or long tights and long sleeves for certain moves. Absolutely no zippers, buttons, eyelets, plastic or metal of any kind on clothing these could tear the fabrics as well as be uncomfortable for the trapeze and lyra. We will work barefoot.
Bring a water bottle, the tap water is good to drink.